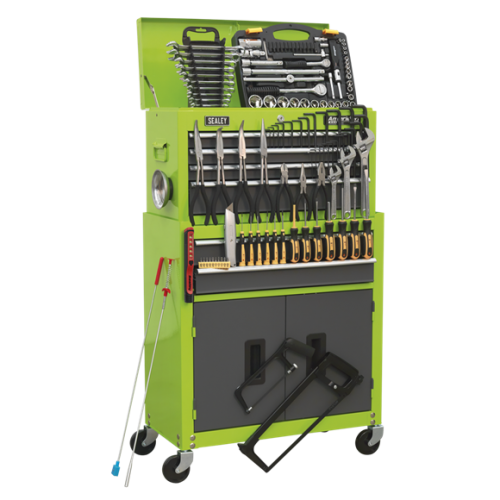 Description
Specification
Package includes:
4 Drawer Topchest
Overall Size (W x D x H): 600 x 260 x 340mm
2 Drawer Rollcab
Overall Size (W x D x H): 615 x 295 x 700mm
128pc Tool Kit
Model No. – Description
LED054R – Rechargeable USB Penlight 5 SMD + 1 LED – Red
S0433 – Needle Nose Pliers Set 3pc 275mm
S0437 – Needle Nose Pliers 275mm Offset
S0447 – Pliers Set 3pc
S0448 – Adjustable Wrench Set 3pc
S0465 – Hex Key Set 25pc
S0865 – Engineer's Hacksaw Set 2pc
S0488 – Magnetic Collector Ø110mm
S0529 – Retractable Utility Knife
S0562 – Combination Spanner Set 11pc
S0598 – Soft Grip Screwdriver & Bit Set 23pc
S0610 – Pick-Up Tool Set 2pc
S0711 – Socket Set 52pc 1/4″ & 1/2″Sq Drive
Other products of equivalent value will be supplied in the event that the items should cease to be available.
You may also refer to the individual Model No. for full specification.