THE BIKE: A unique Buell X1
THE PROCESS: Hydro dipping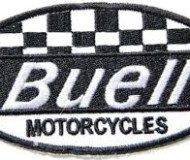 This month was a particularly exciting project as the bike in question went on to win a "Best in Show" award in Belgium! We love a success story and this one has a pretty interesting history… The customisation only came about due to a few technical issues which led the owner to stripping it right down. As a result, what started out as a standard Buell X1 is now a "one of a kind" custom machine that you won't see anywhere else in the world.
But now for a little history….Buell motorcycles was actually founded in 1983 by an ex-Harley Davidson engineer called Eric Buell.
Unfortunately, Buell was quickly labelled as just a "starter brand" option and had to endure the frustration of seeing innovative technology that had been developed by Erik Buell – and destined for the Buell brand – taken over by Harley and modified to fit higher profit machines in the line. Not surprisingly, in 2009, a new CEO declared that sports bikes would only ever produce a small profit when compared to cruisers and an end was put to the production of Buell motorcycles by Harley Davidson.
But on November 15, 2009, Buell won its first NHRA Pro Stock Motorcycle World Championship, and the rest as they say, is history…
So, moving onto to our customer and his awesome Buell X1. This chap had bought the bike about 5 years ago and following a few technical difficulties he decided to embark on a pretty dramatic strip down.  The bike was expertly stripped back to component form and rebuilt to a very high standard with a few unique modifications.  Various components were machined from billet form to create a custom street fighter look and give the bike an incredible head turning presence.
Having decided to go all out for a full on transformation, our customer was keen to try the process of hydro dipping and spent time on the Wicked Website to see what could be achieved.  Having chosen a colour and sent the parts over to our factory in Poole, he then waited anxiously for the dipped parts to return so that he could finish his intensive project. Weeks later he admitted that picking a colour that he had only seen on a Website was a little scary but having witnessed the final result he was absolutely made up with the quality and vibrancy!
"I must say that wherever I go the bike brings in a crowd and it makes me very happy to tell them the story about the bike and its hydro-dipping adventure! Many others find it totally amazing!"
As a keen Buell enthusiast, Nick is a member of the UKBEG which is a UK Buell enthusiast group with links throughout Europe. Once the parts were fitted and the bike was ready to be shown off, Nick drove to an annual  Buell meeet in Belgium with 60 other like minded bikers – reaching their destination at a small place called Lauwe.
Excitingly, this year Nick and his custom Buell X1 won the "Best bike of the meet" and it was collectively decided that this was down not only to the look and quality of the engineering, but the ultimate effect of the hydro dipping.
WHAT A RESULT!!!!