This month we managed to corner our newest Paint Preparation and Polishing Technician for a ten minute chat before he whizzed off again into the depths of the factory..
NAME:
Manuel Angel Pieris Casado – known to friends as "Angel"!
AGE:
Just hit the big 40 with a painful bump!
HOW LONG HAVE YOU WORKED FOR WICKED COATINGS?
I'm a relative newbie – been here for just over 2 months. A bit anxious about this "initiation test night" that I keep hearing about though…
WHAT DOES A TYPICAL DAY INVOLVE?:
A great deal of polishing!! Its really addictive work to be honest and I get a crazy amount of satisfaction from doing a thorough job. Always best to treat each piece as if it was your own and then you find you give 100% each time! Also satisfying to know that a good job at this stage will really contribute to the final look of each piece!
WHAT IS YOUR MOST MEMORABLE PROJECT?
Not been here quite long enough to have one but from what the other guys talk about I think the KTM Super Duke wheels that were done recently were pretty spectacular! Sounds like a pretty intense paint job but the final result looked incredible!
WHAT CAR/BIKE DO YOU DRIVE:
Travel by train at the moment but I quite fancy one of those driver-less cars I keep hearing about..
HAVE YOU EVER HAD SOME CUSTOMISATION WORK DONE YOURSELF?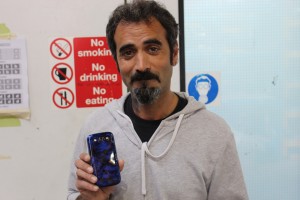 I have had my mobile phone case dipped which was pretty cool. My next project is to get some work done for my catamaran. Watch this space for pictures!!
WHAT IS YOUR "DIY TIP OF THE MONTH"?
Well that one is pretty simple – if you want a perfect finish then its all about preparation, preparation and more preparation!! Its seriously worth putting the effort in here guys or the rest of the project will be built on shaky ground.