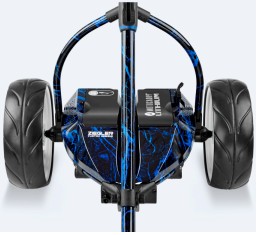 An exciting new partnership between market leading trolley brand Motocaddy and custom design ace Ziegler will now allow golfers to inject some serious individuality into their game.
Up to now the mention of "golf customisation" has failed to inspire much excitement in the sport with the pinnacle of cool being limited to the odd personalised tee peg, club or ball.
However, style conscious golfers everywhere can now finally add some flair to their equipment with the unique new online service available at Ziegler Custom Designs. This incredible new customisation service will allow golfers to personalise leading electric trolley models from the Motocaddy S-Series range with an enormous choice of colours and pattern combinations – with the option to add company or club logos if required.
Using high quality durable paints and strong polyurethane lacquers, the wizards at Ziegler will create eye catching and long lasting finishes for the S1, S1 PRO and S3 PRO Motocaddy trolley models.
Golfers can take advantage of the many benefits of this service including:
Matt, Gloss, Candy & Chameleon finishes
Hundreds of different colours to choose from
Durable finishes that have been tested in extreme conditions
Trolley delivered within 4 weeks of being ordered
Each Motocaddy trolley is handcrafted in a specialist UK facility giving golfers the peace of mind that they will be ordering a premium piece of kit with the added advantage of some head turning customisation.
Visit Ziegler now to start your personal journey into the new era of golfing cool!