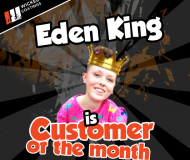 Many thanks to everyone who has put themselves forward to be our Wicked "Customer of the Month" – we have really enjoyed reading through your testimonials, comments and emails, especially those with photographs of your customised parts!
However, the wait is now over and the Wicked team has reached a unanimous decision about who this month's worthy winner should be.
We are delighted to crown our Wicked "Customer of the Month" as Eden King!
Eden is a beautiful young lady from Thetford, Norfolk who recently turned 14 on the 5th September.
Her birthday was made particularly special by the fact that her father Rod had arranged for us to customise the back and body mouldings of her wheelchair with a wickedly stylish pink and purple leopard print!
As a budding fashionista, Eden was extremely keen to choose a vibrant and attractive coating that would guarantee to stand out in the crowd!
With this in mind, we spent some time trying to source the perfect film and  managed to find a truly eye catching and girly pattern which got a solid thumbs up from our young customer!
Once we had conducted the water transfer process the mouldings were ready to be dispatched back to Eden – in time for her 14th birthday!
Eden's father Rod tells us that she is completely over the moon with the colour and overall effect which is wonderful news.
This was our first ever hydrographics work for a wheelchair and it couldn't have been for a nicer customer.
With her newly  customised chair, Eden was able to enjoy her birthday week in style – from a surprise day out at Aldenburgh on the Suffolk coast to a trip to see the One Direction 3D film with her two cousins and even a new pet guinea pig called "Mr Laurie Parsnip!"
Perhaps the crowning moment for Eden was a shopping trip to Brentwood where , as a passionate TOWIE fan, she visited Amy Child's beauty salon and even got to meet Gemma Collins who jealously remarked that "I'd kill for a bit of leopard print".
Eden – we are delighted to crown you as our worthy "Customer of the Month" for September!
Enjoy your chair and many thanks for sharing these great photos with us.