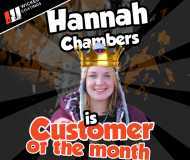 Following another action packed and frantic month of hydrographics deadlines, paint work and generally awesome customisation, it is now time to select our Wicked "Customer of the Month" for October.
It's really not easy to choose a winner each month as we become part of so many fantastic ventures that you guys are working on. However, there was definitely one person who stood head and shoulders above the crowd this time and it is genuinely a pleasure to be able to share and promote the finished effect of this particular project.
Hannah Chambers – you have been selected as the Wicked Coatings "Customer of the Month" for October and by gum do you deserve it!
Many of you will have seen the great video that Hannah put together as she replaced the hoses of her Honda Civic FN2 Type R with a heavyset FN2 kit as well as fitting the trim and rocker cover that was customised by us.
The overall effect of Hannah's work is pretty inspiring and it was a pleasure to have been involved with the project.
Hannah kicked everything off by sending us:
2 engine bay edge trim strips
Cathode terminal cover
Fuse box cover
Air box mushroom
Rocker Cover
She was keen to have a black carbon glossy finish for everything except the rocker cover – which was destined to be customised in blue with white detail and a glossy finish. Watch Hannah work into the night as she fits these parts during her video!
As you can see from the images below, the finished effect is absolutely stunning.
24 year old Hannah works as a Broadcast Engineer for ITV on Southbank by day and has a real passion for her Honda Civic FN2 which she has owned since January 2012. As a member of civinfo.com (Hampie42) Hannah was introduced to Wicked Coatings by a fellow member (Ginge) who had some eye catching Chinese symbols on his rocker cover!
Hannah attends shows such as Japfest and Santa Pod and can be found on YouTube as well as her own site www.hannahchambers.com  which is currently being updated as she endures the monotony of a current jury service stint! We feel your pain Hannah!
As one of our Wicked Customers of the Month, Hannah will be entered into a "Customer of the Year" competition at the end of 2013. Please feel free to leave any comments about Hannah's Honda Civic FN2 customisation on Facebook, G+ or Twitter and all feedback will be taken into consideration when selecting our overall winner for 2013!
Don't forget to "Like" our Facebook page if you haven't done so already – much appreciated guys!