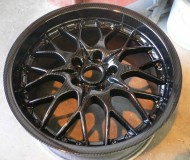 Not only have we chosen to finish our Cagiva Mito special in gleaming black with carbon dipping through-out, but our customers are requesting us to do lots of items too!
Last week we did a mini cooper dash and door card inserts, a Ford Focus's bumper grill and rear valance and an Xbox 360 case and control pad. The most impressive carbon dipped item to date is a VW Transporter T4 bonnet…..Yes that's correct we can carbon dip parts this big!
So far this week we have done a set of alloys and some plastic panels for a Yamaha scooter. We are revising our gallery to show other films available to dip with. You can now get a kevlar effect dip, which is wicked! Check our gallery for new carbon patterns, and check back to see our newest items regularly.
We've just began  the interior of our show car, the white Nissan 300zx you can see in our gallery. This will look really cool, the contrast of pure white against the sleek, quality look of our dipped parts.
With our special smoked lacquer on top of our dipping, it looks wicked, and in using this lacquer it really adds to the effect and quality of the dipping process.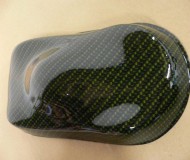 To promote carbon dipping further, we are offering our customers 50% off of  any items during December. Bookings to be made before the new year.
So there's one more reason to get some carbon dipping done, don't delay, book your carbon dipping today.
So join the masses and get in touch for your personalised quotation  on your car parts, computer or console or anything else you would like to look WICKED!.