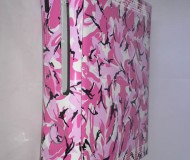 We have now added a full range of digital camo patterns for customers to have items dipped in, along with the real camo's and standard camo's available to dip with.
Camo dipping is very popular on air rifles and paint balling equipment, but we have also found a demand for camo dipping on xbox 360's. We are adding images of xbox 360 case and pad camo dipped in our new canvas camo to our image gallery soon.
We have an air rifle in the workshop which is in for camo dipping. We are going to use a real camo on this, and aim to have the finished item in our gallery soon, so be sure to check back if your interested in camo dipping.
Camo dipping is huge in the USA, many people have hunting equipment camo dipped, there is also a huge trend for camo dipping on ATV's (quad bikes) over their too!
See our image gallery for  items that have been camo dipped already, and feel free to contact us for any enquiries or estimates for your camo dipping requirements.
We can make many variants of each camo dipping pattern by modifying base colour. This directly effects the finished look of your camo dipped item. See our sample speed shape gallery for different camo dip combinations.
We plan to add more new camo dipping patterns to our range soon. We have sourced several more, completely different camo dipping films. Hopefully we will have images in our patterns gallery very soon.
We also plan to launch a dedicated camo dipping gallery where any camo dipped items will be, all in one place, if camo dippings for you, that's the place for you.