Wicked Coatings hydro-dipped interior parts, creating a beautiful woodgrain effect for this 1969 Mercedes being upgraded by Retropower.
Taking more than a month to install and commission, Wicked Coatings has invested £80,000 in new ovens, which includes two 7m x 4m spray booths with state-of-the-art floor extraction, in its facilities in Poole, Dorset.
"We strive to offer customers the highest quality work output. With this high-end technology, we can do exactly that as well as operate efficiently, reducing our carbon footprint," said Lynsay Eskdale, General Manager.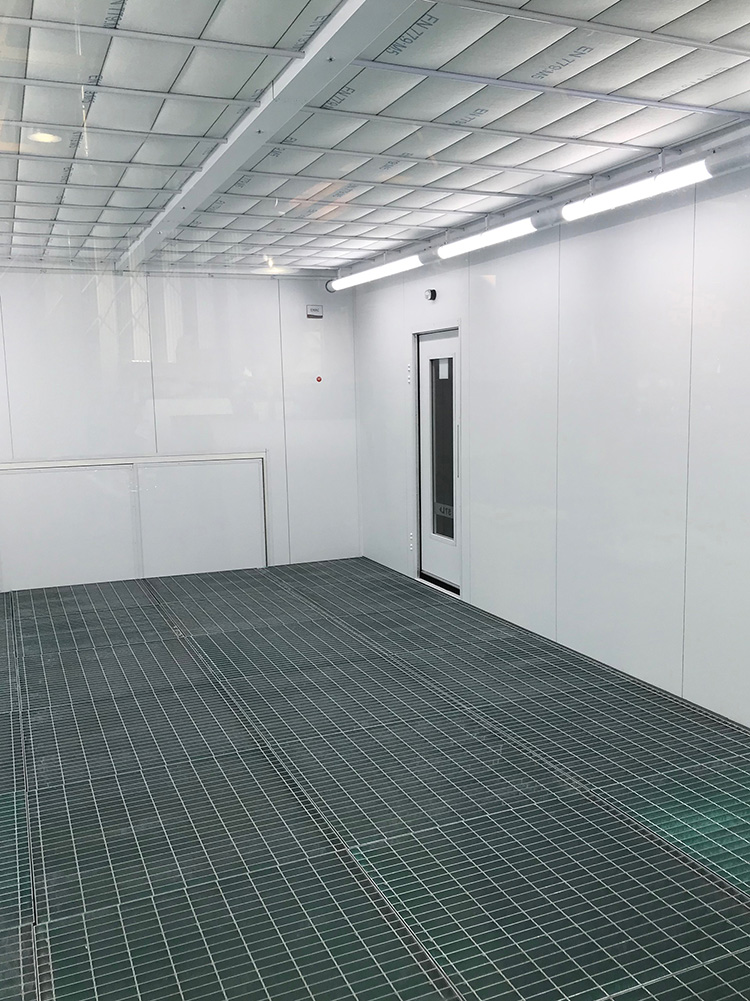 "We wish to thank all our customers for their patience whilst they have been installed, but hope you agree they look amazing and will support our delivery of outstanding work."
Customer hails 'excellent results' for car modifications.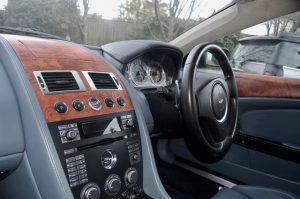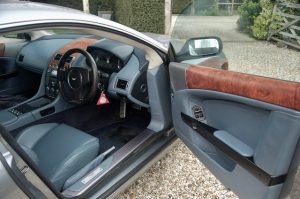 Colin looked to Wicked Coatings to create a unique look for his car.
Wicked applied designs to his wood door trims, centre panel, metal door handles and centre console…and he was 'delighted' with the results.
After seeing Wicked Coatings on Wheeler Dealers, Mark had the idea to carbon dip his Mercedes interior trim.
"I hated the aluminium trim, which looks tacky and I wanted to emulate the more expensive carbon fibre option found in the AMG 63," said Mark.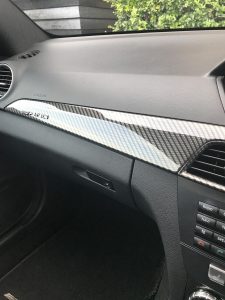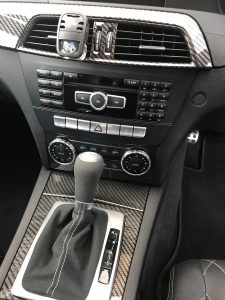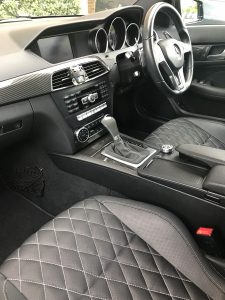 Mark contacted Wicked Coatings and was very impressed: "The quality of the work is fantastic and the service I received was superb. I have already used Wicked Coatings again and I have recommended the service to a number of friends who have been impressed by the quality of the finish,"
"My local Mercedes dealer, who fitted the parts, was so impressed that he will refer people who require similar services."
"The finished items are better than expected and I would thoroughly recommend Wicked Coatings to anyone who wants a quality job, at a reasonable price," added Mark.
"Really easy to deal with and perfect results! Very pleased with the finished product."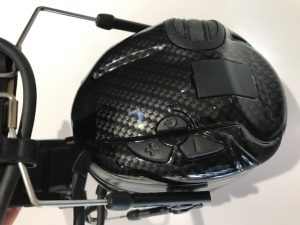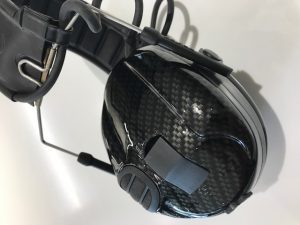 "I'll definitely be on the lookout for more things that I would like to have coated by Wicked Coatings!!!"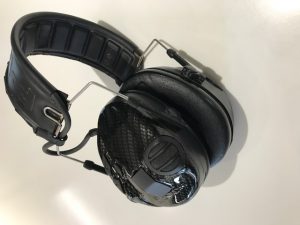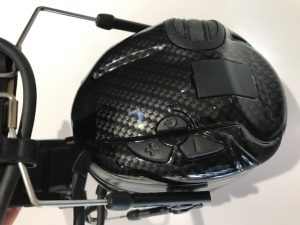 "Wicked Coatings" Testimonial – Richard Langton         
The one regret I had after ordering my Jaguar XF Sportbrake in 2014 was not specifying  the walnut burr trims – not to everyone's taste, but for me this would have been a nod to the tradition of the marque. But at an additional £450 and after blowing my budget on lots of other options I hadn't budgeted for I ruled it out as one indulgence too far.
The 'flat' satin redwood trim supplied as standard in the car always disappointed me and when you consider that you spend your entire driving experience staring at it I decided to do something about it. I contacted Jaguar to ask for a quote to supply and fit burr walnut trims for the door panels and various pieces in the cockpit. Parts and labour?… £2000. Not an option.
So I started trawling ebay for the correct trim set, with a nice pattern/shade, in very good condition and at the right price.  Suffice to say this was a non-starter. There were bits and bobs but the unique thing about real walnut is just that – it's unique. I didn't want a set of trims that didn't match. Then one evening (like many other petrol-heads) I found myself watching an episode of Wheeler Dealers (for the umpteenth time) where Mike bought an horrendous customised Range Rover and wanted to replace the garish electric blue trim panels with carbon fibre.  The cost was obviously prohibitive so he looked to a new technique of water-dipped graphics for a solution.  It occurred to me that maybe it might be an option to get my trims water-dipped in a walnut film?
I looked at a dozen or more companies specialising in this kind of treatment, and even entertained the idea of buying some film off ebay and trying a DIY job in the bath! ( I dismissed that idea pretty quickly). Wicked Coating's website stood out because (a) it had a picture of Mike and Edd on the homepage (what's not to like?) and (b) it had by far the widest selection of films to browse in the various (and extensive) galleries. I spotted one item in particular that had been coated in a 'dark walnut' film, and it looked like exactly the shade / pattern I wanted.
So I made my first contact with Wicked Coatings, on 5th March 2017 by filling out the simple on-line quote form on the website. I received a comprehensive quote and email with information about the process and what to do if I wanted to proceed from Wicked Coating's Director Lyle Meikle within three days. The figure quoted was more than reasonable so I set about sourcing the last bits of trim I needed as cheaply as possible.
After a few weeks  I found a set of the correct door panel trims, in a gorgeous dark burr walnut pattern, in great condition. They were cheap at £60 although they did have to be sent from Lithuania. Great!  All I had to do now was ask Wicked to dip the remaining trip in a pattern to match! I eagerly contacted Lyle again with a photo of one of the door trims and asked him for a revised quote based on the remaining trim panels and asked him to source a 'good match film'. Lyle replied a couple of days later and I was gutted that he advised that they were unable to identify a suitable film for a match and were therefore not able to assist.  I could either continue as planned (and have the beautiful Jaguar walnut panels dipped in fake walnut (the irony was unbearable) of forget the whole idea.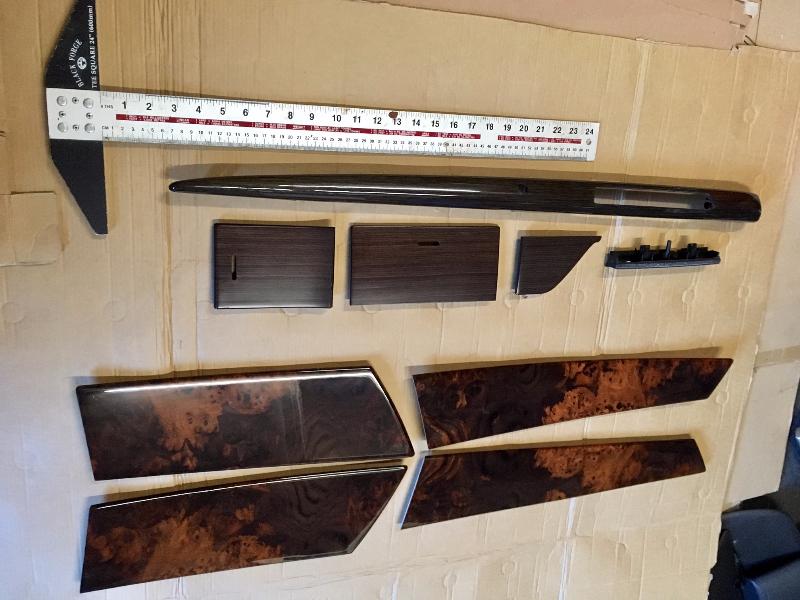 Lyle and I exchanged emails over a few days and I suspect he realised how keen I was to find a solution, so he advised that I sent the trim to the company together with one of the genuine walnut trims, and they would see what they could do. On the 26th April I received an email from Lyle – they had been working on a solution to get the best match to my trims they could find and included a photograph of my trim panel against a test design. It looked fantastic and I immediately gave the go ahead for the work to be done.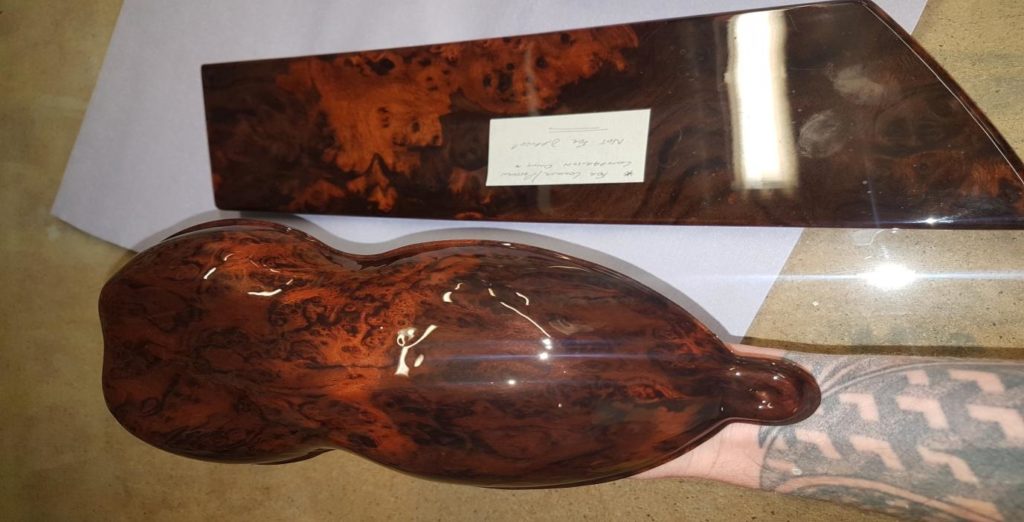 I received a call from Wicked Coatings on the 8th May to say that all the trims had been completed and coated in a deep gloss finish. I paid over the phone that evening and was assured that the trim would be with me the next day. And it was; the courier arrived in the afternoon and I was stunned at just how good the trim looked, how well it matched the original piece and the amazing quality and attention to detail that had gone into this.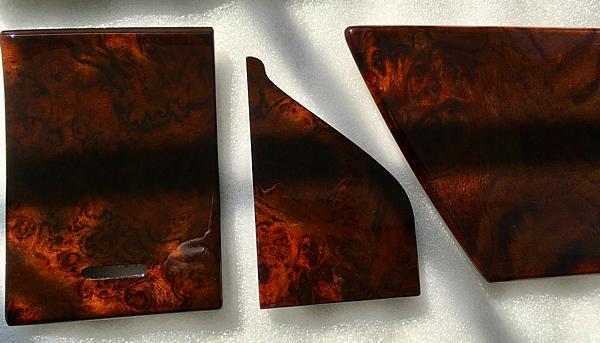 The orginal Jaguar walnut trim piece is the one on the right in both photographs. If you didn't know it you would be very hard pushed to realise.  I immediately set about fitting the trim to the car and it was evident that there was no overspray, no 'gloopy drips' of clearcoat fouling any of the shutlines etc. It just fitted perfectly and the impact was stunning.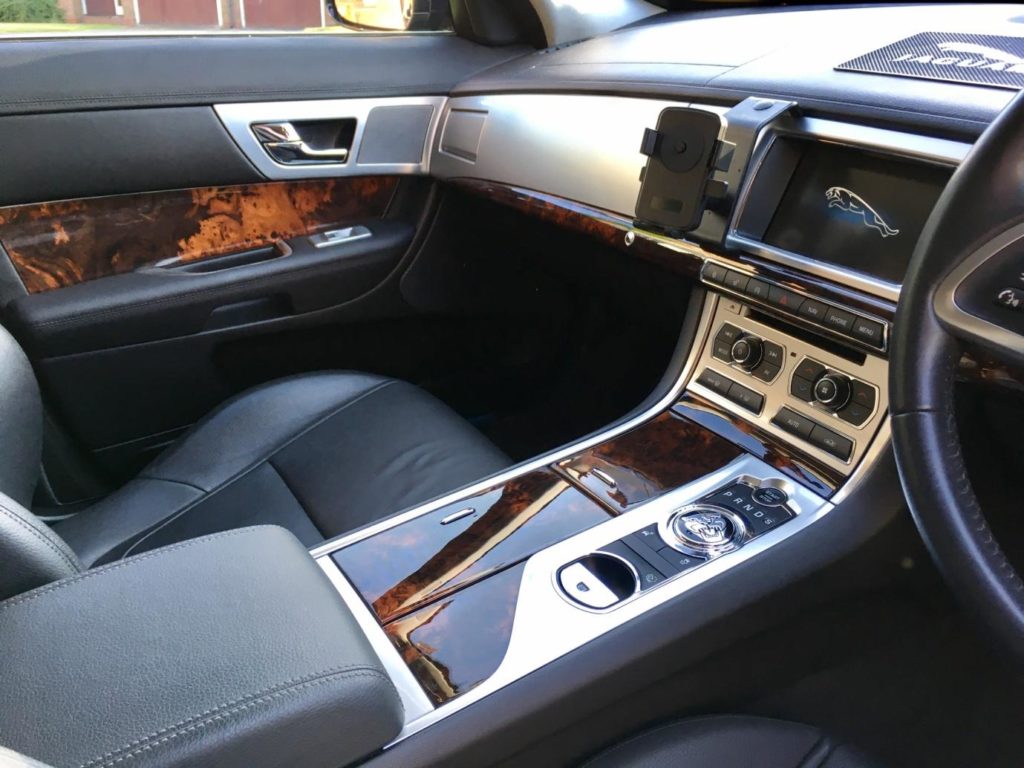 It was then that they  explained that in order to achieve the finished product they had had to come up with a bespoke solution involving the right shade of base coat, two different wood effect films overlaid and detail airbrushed in before the deep glossy coats of lacquer.  I was impressed that rather than stick to the "really sorry but we can't match that" approach, the company found a way to replicate the original trim to such a standard that you would never know it was not all cut from the same tree.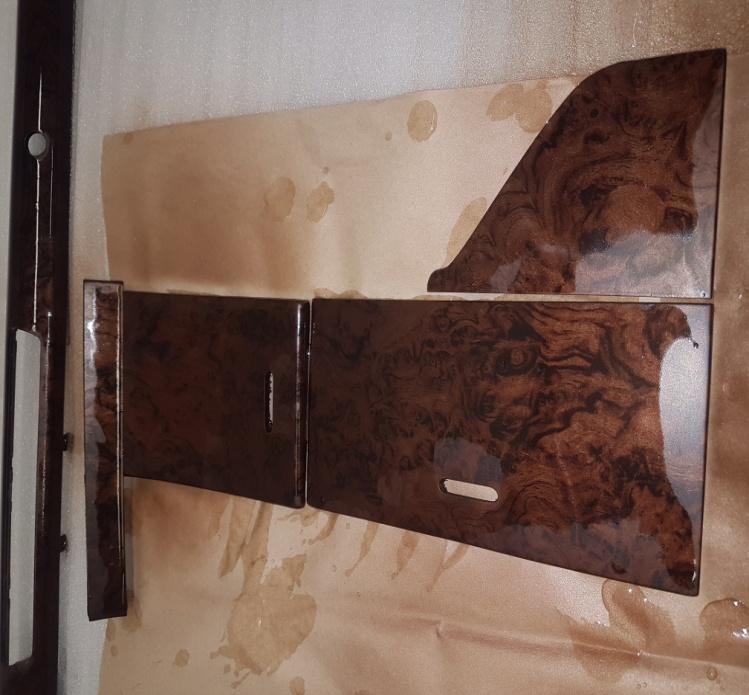 The inside of my car has been transformed and now oozes with the look of luxury that modern cars (even newer Jags) just don't seem to pull off anymore.  I was so delighted with the outcome that I emailed Chris and Lyle from Wicked Coatings and sent them a photo. My son is a Design Engineer for JLR and he was amazed at the quality and likened it to the company's flagship XJ model.
I'd better make clear that prior to this commission I have had no dealings with Wicked Coatings and I do not know anyone employed by the company. Furthermore I have no incentive to write this testimonial other than I would say it is absolutely the right thing to do when a company goes out of its way to provide a bespoke service for a customer. I would commend the services of Wicked Coatings to anyone – and have already shared my experience with a number of online car forums. And after all, if they are good enough for Mike 'n' Edd ….
Richard Langton  May 2017
Inspired to imprint his personality on his Porsche GT4, Phi-Hung Nguyen approached Wicked Coatings to help design and create a more modified, custom finish with hydrographics. The result was better than he had ever imagined.
"The result of the carbon finish on all the parts and particularly visible on the rear wing is just outstanding, incredible, awesome, and stunning. I was speechless when I saw them mounted on my GT4, and so was my Porsche dealer when I stopped-by to show him the car," praised Phi-Hung.
As a self-confessed Porsche addict, Phi-Hung wanted to create a balance between a beautiful, sporty and classy look, without it looking too much, but also wanted to distinguish it amongst other GT4s. Wicked Coatings helped Phi-Hung achieve his dream, producing high-quality carbon design for the Porsche.
Phi-Hung had a very clear idea about what he wanted to achieve: "One of my best reference was the awesome look of the limited edition 911 type 997 GT3 RS 4.0 (from 2011), which inspired me for my GT4, but I wanted to tailor the stripe colours to match with other elements of my GT4, such as the rims in satin platinum.
"As a high-tech geek and due to the racing DNA of the GT4, it was mandatory for me to spec it with the light carbon bucket seats and interior carbon package. For the exterior, I found it a pity that the big rear spoiler did not keep the carbon look, as well as the black plastic elements, such as the rear diffusor, the front lip, the air inlets around the blinking lights which look 'cheap' on such a car. However, I knew that turning all those elements to true carbon, would not be affordable for me, but I definitely wanted them to have a carbon finish."
With a plan to create a carbon-look, Phi-Hung approached his custom garage to wrap the parts with carbon foil. He was told that there was no guarantee of the result, because of the rough surface of the plastic.
That is when Phi-Hung learnt about dip coating. Forum members voiced mixed opinions on the reliability of the finished product, but then Phi-Hung came across Wicked Coatings: "I was immediately impressed by the clarity and quality of the process explanations on their website and by all the positive user's comments on several internet forums.
"Although I live in The Netherlands, I wanted to only use Wicked Coatings and no one else. That said, like St Thomas I definitely only believe what I can see and touch, so first, I shipped the internal doorsills as a test. Result? I could not believe the fantastic result in terms of look and quality when I had them back."
Phi-Hung was so impressed with the results, he sent a second batch of parts to Wicked Coatings and is overjoyed by the end look: "The result is such an added value to the look of the car. Unless I tell people, nobody could guess that the parts are not in true carbon, even at my dealership. Finally, I must say that this is by far the best result/quality/cost ratio. My main costs were workmanship for dismounting/remounting the elements. I am now even considering processing few more parts which are not necessarily visible at first sight…"
Dear Hannah and Lyle,
I have not contacted you back since the parts were shipped back to NL and reassembled on the car, as I have been busy and the car just stayed in my garage also for quite a while. I wanted to give you my feedback once I have taken few pictures on a nice day and could send them to you. The result of the carbon finish on all the parts and particularly visible on the rear wing is just outstanding, incredible, awesome, and stunning. I was speechless when I saw them mounted on my GT4, and so was my Porsche dealer when I stopped-by to show him the car.
I am so happy to have discovered Wicked Coatings and would like to express all my appreciation not only for the result but also for your valuable support and advice from the design selection to the end product and customer focused service.
I will definitely not hesitate to highly recommend Wicked Coatings and I will certainly contact you back if I need to process some more parts.